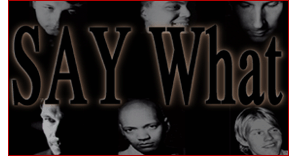 In 1986 Bj and Sturay decided to start an original funk band. In February 1987 Kahsay became a member in SAY What as a leadsinger. BJ on bass, Stu on guitar, Jake on keyboards, Fredrik on drums and Kahsay on vocal.
During this period the band played at the Hard Rock Café in Stockholm and that is the only gig that Kahsay missed and later that year Daddy Dee became a member on percussion.
Our aim was to play some original funk and not covers like all the other bands did in Sweden. In 1990 we won a nationwide contest and made a single and thats the highlight of that band.
In 1999 we decided to play togheter again cause Jucy got married and he wanted us to play at his marriage. We found out that we missed to play our funky tunes. So the band started off now with two new members.
Maagnas on Drums and Tesetoo on bass. We had one gig in Uppsala and we knew that this was fun and most of all FUNK! Then we had to find to new backup members so we could take any gig that came our way and we found Maagnus and Machei. These made the band complete.
During the year 2002 Machei decided to move from Stockholm, so we had to find another bassplayer and we called M-Tease to help us out for a gig, and he has been a member since that. In 2008 we have regrouped the band and the active members now are: Kahsay, Stu, BJ, Jucy, Daddy Dee and Jojje.